Let me just say, I want to thank those of you who helped me make a decision from this
post
. It was greatly appreciated as you all know Im very indecisive. Seems like you all agree with me keeping my hair somewhat on the longer side. And glad to know you also prefer my natural color too!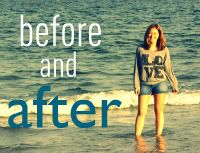 So I've decided to link up with sweet Katie and show you my before & after haircut pics. Please dont mind the background, as it was a car photoshoot taken by yours truly ;)
What'd ya think?
Im totally lovin' it! Although I do feel lost without those 3 inches of hair. But I love that I can just go in and tell my stylist "Umm, Im thinking a shade darker, just to keep it vibrant, and maybe a few inches to keep it healthy" and this is what I get. I guess thats why I keep going back to her. I swear no matter what I tell her to do with my hair, I always love it. Although, I hate that it always looks so much better when she blowdries it!
anyone else have this problem?
I just cant seem to figure out how to make the flip with the ends?!?! Ive tried buying one of those really big round brushes but my arms just get in the way when blow drying and it never comes out right!
Oh yeah, and it looks like it might be a tad redder now. I think after a couple of washes the darkness has turned to red. I still love it though.
Also linking up with Wordless(ish) Wednesday with
The Paper Mama
and
A Little King and I
.