just a fancy way of saying my bedroom hehe
Linking up with
Lindsey over at The Bargain Blonde
again this week for part 2 of her home tour series.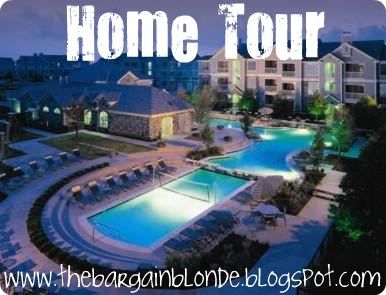 Ill start off with a pic of what our bedroom originally looked like when we first moved in. (you can see our "works in progress" and before/afters of all our home renovations
here
)
Yes, the previous owners painted 2 walls one color and the other 2 walls another color. There was terrazzo flooring (unfortunately this is all through the house), and the closet had pocket doors. So, onto what it looks like now...
5 Piece Furniture Set: Rooms To Go
Lamps: Furniture Power
We ended up knocking out the closet doors and making the opening bigger. We havent agreed on what kind of doors were going to put there yet, so for now its just wide open and I try to keep it clean. We also put in carpet thats a light brown tannish color.
Mirror on Hubs nightstand: Ikea (hubs will be putting it on the wall behind the bedroom door eventually)
Closet System: Home Depot
So, now on to the good stuff...
Closet Division = 75% my stuff + 25% hubs stuff
(and yes, there are 7, let me repeat 7, pairs of jeans on my side, not including the 2 in the wash, what can i say? Im a jeans, tank, and flip flops kinda girl)
Hubs contribution to bedroom design = bass pro shops fish charm for fan chain
Inappropriate Armoir Note: at our old apartment the TV was inside the armoir, but it was an old tube tv, and at the new house it just stuck out into the walk way too much, so we decided to get a flat screen instead. But due to the angle the bed and armoir sit at, the TV has to go on top or my view gets cut in half. Therefore, it now houses anything inappropriate for
parents
,
family
,
some friends
guests to see......
Watercolor paintings by yours truly :) 1 is of the restaurant I work at on the beach, the other is a popular street on Fort Lauderdale beach, Las Olas Blvd
Rugers chair - yes our dog has his own chair in our bedroom, i know it is horrible, but i would much rather him sleep there than on the bed with us (which he prefers)
Jewelry box hubs got me one christmas from Bombay Co
Feather Boa from another themed bachlorette party (yes, we like to PARTY!)
random pics from wedding and concert
my garter from our wedding around my absolute favorite yankee candle: Christmas Cookie
2 jars for change- one has only pennies the other has all the silver. The moon one i actually painted at a Joe Picasso's back when I had money to spend on whatever lol
One of many cowgirl hats I have. this one I made the hubs best friend buy me (and another one of my friends one too) at a country concert.
And since my closet has no doors and is already packed to the brim in as much organize chaos as can be expected, the small cabinet in my dresser is filled with purses (oh yeah did i neglect to mention that i am a shoe and purse freak) they range from target, avon, coach, old navy, you name it...
Oh and thats Ruger sitting in his chair. :)
My inspiration board for this room is really just things I might want to add to the room considering the majority of the room is complete already. Just need to decide on closet doors (I want mirrored, hubs doesnt), maybe a few more wall decorations, crown molding, and window treatments.
So thats where all the magic happens (am i allowed to say that?) Your turn, link up with the rest of us
here.