Its that time again (although I guess technically it was that time yesterday, but you know me, i procrastinate) Linking up for the
Home Tour Series
with the oh so wonderful
Miss Lindsey over at The Bargain Blonde
(and
Raven from A Momma's Desires & Pacifiers
of course!) .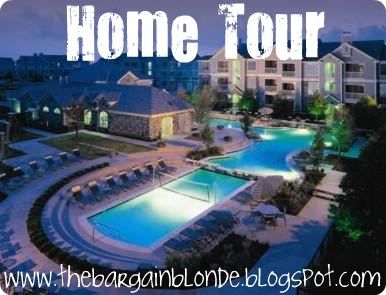 I wouldnt say my living room has any kind of theme or organization (unfortunately). Hubs and I decided to not decorate it too much because for 1) our living room is also our dinning room right now and 2) when we redo the kitchen its going to make the entire living room look like a construction site. So here goes nothing . . .
As you can see, everything is a bit cramped right now. Eventually the dining room table we go into
my office
the dinning room once we enclose the carport as a
an office
3rd bedroom. The couch is my sisters old one. It has 2 recliners and is a pull out bed. We never use it, but its nice to have if we need it. Both dog crates are in the living room, since we have no where else to put them. :( The bookshelf and mirror are actually going to be torn out to extend the kitchen by 1.5ft with a bar top. But currently it holds everything from paint and paintbrushes to picture frames and my flower girl basket.
Lets take a look at the shelf as a whole:
We could actually even play the "I Spy Game"! Lets see how many you can find :)
I spy 2 wine glasses still in their boxes (got from bridal shower, they are the same but from 2 different friends)
I spy a ring bearer pillow (yep from our wedding, what are we supposed to do with it now?)
I spy an unopened set of pots and pans (another bridal shower gift Im not allowed to use yet)
I spy 2 deer (hubs stuff, no explanation)
I spy a half used bag of thinset mortar (b/c dont all of you keep this stored in your living room?)
I spy a friends picture frame (me and one of my besties at my bachelorette party, cowgirl style!)
I spy a basket (random storage)
I spy scategories (one of my all time fav board games!!!)
I spy a giant fishing lure (xmas gift to the hubs from my sis, it should hang on the wall eventually)
The list could go on, but Ill leave it to just that. Here are a couple closeups for you.
1. Hubs and I when I was still in high school, we took a roadtrip to NJ in my dads truck with my parents to see my family up north
2. Our wedding invite (that I designed) and us cutting our cake (it was DELISH!)
3. Beagle stuffed animal my niece gave us as a gift
4. Beagle figurine my nephew got us as a gift
5. Hubs and I on my birthday in Cozumel, MX at 1/2 Senor Frogs the day after he proposed
6. Wedding photo
7. Grandparents on my fathers side wedding photo
1. Painting project from college
2. Lanterns (when you live in a place that has
hurricanes
you stock up on these)
4. 1/2 empty paint buckets
5. Fishing Lure
6. Bridal shower gifts (candles, wine glasses)
7. Board games (Scrabble, Rummikub, scategories, oh and PS2)
8. Pic from my bachlorette party
9. Flower girl basket and ring bearer pillow
10. All hubs random hunting and fishing figurines (the bass fish mount is actually the first bass fish he ever caught, his dad was a taxidermist and mounted it for him when he was young)
Our end coffee table, some reads for you: Saltwater Fishing, Kitchen & Bath, and of course the latest VS catalog (i spend way too much money there)
Our DVD collection (age appropriate, although there may be a few inappropriate in the
armoir
, sorry mom) includes titles like:
Swat
Bruce Almighty
Friends Seasons (yes im an addict of the TV show Friends)
Waiting (hilarious, if anyone is in the restaurant biz you gotta rent this)
Blow
Super Troopers
You, Me, and Dupree
Fight Club
The Patriot
Catch me if You Can
Meet the Parents & Meet the Fockers (i should prob go buy the 3rd)
and plenty more
Since we had decided to not decorate this room and focus on the other rooms in the house, I havent really figured out what I want this room to be like. Here are a couple things Ive seen that I liked for inspiration (i know theyre all over the place, but common theme = no light colored couches, dogs would destroy them)
If any of you have small living rooms and wanna link up to share some ideas with me go
here
and join the rest of us. Next weeks room is Guest Room/Office, crap I better go clean up my office :(