2 posts in 1 day? i know crazy right? ;)
With the holidays only right around the corner, I think it was perfectly fitting for Allie & Kay to choose GIFT GIVING as this weeks Wedded Bliss Wednesdays theme.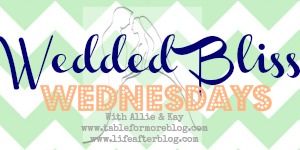 What is the best gift to give your husband?
This is actually kind of hard for me because I absolutely love to GIVE gifts to people. Like I seriously take way to much time to find the perfect gift for each and every person for their birthday, christmas, anniversary, you name! And although I love getting gift cards as a present, I absolutely despise giving them! theyre so impersonal! But particularly for my hubby, if I could give him a boat, even just a small used bass boat, i think he would sh*t a brick. thats how badly he wants one. lol

What is a meaningful gift that you can give that does not cost money?
Honestly, I think now-a-days he would just like for me to give him the "ok" to go out with the guys. lol. Not that he has to ask permission or anything, but i know it means alot for him to be able to go relax and have fun with the guys without feeling guilty that he left me at home with the baby.

What is the best gift you have given to him?
Just one? Im such a good gift giver! Ill name a few of my fav gifts to him: Linex for his truck, Sirius Satelite Radio, Costa Del Mar sunglasses, a grill, and oh yeah our son! ;)
What is the best gift he has given to you?
Definitely our son. If it werent for him then I wouldnt have my precious lil boy. Ok, but mushy stuff aside, probably my iPad. I seriously use that thing everyday! Speaking of my iPad, I wish blogger would get a better iPad (and iPhone for that matter) app, i mean seriously come on people! get with the program!
What are you giving this holiday?
Hmmmm, i dunno yet. Were kinda tight on the whole budget thing this year, but Im sure to come up with something good. Maybe a new fishing pole?
Dont forget to go link up!