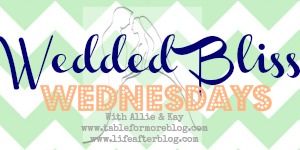 Love this idea
Allie
and
Kay
came up with:
Each week link up and show off your amazing husband or man!! We can exchange tips and tricks and just have fun talking about our loves! Let's grow all of our marriages by learning from each other! You can vlog your questions, write your questions, interview your husbands, let your husband guest post - get creative!!
The deets: Chances are, your readers know all about you! But what about your husband? Lets give our men the spotlight this week and introduce the blog world to your other half!
Introduce us to your husband! (What's his name? How old? What does he look like?)
So my hubby (and highschool sweet heart) is Matt. He is 28yrs old and is pretty handsome if I do say so myself! ;)
2010 from our wedding
What is your husband's favorite thing to do?
My husband absolutely loves to fish! Unfortunately we cant afford a boat right now so he has to wait until someone invites him out on theirs. Hopefully one day we will have our own. Matt has been looking forward to teaching Matthew to fish one day and it would be awesome if it was out on our own boat.
2003 -lmao he'd kill me if he saw this up here
What does your husband do Monday-Friday?
He works as a recruiter for a large corporation who is an outsourced customer service call center. Funny though, he used to work in construction and when he switched fields its like he became a completely different person. He now loves his job and comes home happy even after a long day at work. Its not necessarily the best paying job, but he is gaining some great experience with a great company.
What was the FIRST thing you noticed about your husband when you met?
Definetly his eyes. They are the most beautiful blue color, and luckily Matthew got his eyes (at least so far, they havent changed and hes already almost 4 months (
omg just realized tomorrow is 4 months
) so were thinking they might stay this way)
What is your husband's BEST quality?
Definitely his humor and outgoing personality. He can make me laugh even on my bad days. And hes so incredibly outgoing, I swear no matter where we go there is always someone who knows him and insists on coming over to say hi.
What is your husband's biggest pet peeve?
I would have to say he absolutely despises when I interrupt him. And although I hate to admit it, I do it alot more often than I should. And its not necessarily because I try to interrupt him, but more because Ill forget the point I need to make if I let him continue. lmao
How does your husband feel about blogging?
He doesnt really mind that I do it, but its a whole 'nother story if I ask him to partake. Hes not really into the whole expressing his feelings and emotions publicly. And after I convinced him to do TLC's: A Conception Story with me last year when we were trying to get pregnant, I doubt hes ever going to willingly blog/vlog now.
(unless I promise him things that should not be talked about here lol)
What is something you do/can do that makes your husband feel loved?
I know for a fact that he loves spending quality time with me. And I know that sounds so cliche and corny, but its extremely true. You see with a new baby, my obsession with reading, my need to blog, and the numerous house projects we have, we very rarely get to spend good quality one-on-one time. If you follow me on
pinterest
you might have noticed Im starting to pin alot more "date night" ideas. And please, any suggestions you may have, I would love to hear them!
2011 - Camping in Conneticut
So thats its, you'v met my hubby. Now go introduce us to yours!