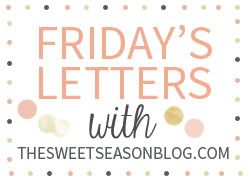 dear hubby
, thanks for making such a delicious dinner last night, not sure why we dont do burritos more often?!?! i was even able to make a healthier version for myself without having to do a whole lot of extra work. maybe this will become a weekly meal idea!
dear matthew
, now that you can fully sit yourself up from a laying down position, we decided it was indeed time to lower your crib. i knew this would happen sooner or later, but Ill admit, mommy may have gotten a little teary-eyed while doing it. Youre no longer my little newborn baby. Youre still my baby, and always will be, but now youre all sorts of moving and noise-making baby. ;)
dear floors
, now that we've added another dog (
not forever, just doggy-sitting my mil's for time being
) you need to be cleaned even more often. Plusalso, if and when matthew starts crawling anytime soon i dont want him crawling on gross floors. So basically, can you just clean yourself?
dear diet
, this week its not only my goal to exercise
more
at least once, but to also try hitting my "healthy checks" each day. So far this morning Im already doing pretty good, so lets hope this continues. Im going to go grab my multivitamin just as soon as I finish this post, so Ill be able to check that off too. Although, I will have to look up in the WW packets how exactly to get my daily healthy oil intake. That one has also stumped me, so I usually just ignore it, but not this time. I want to try and do my best with all aspects of WW.
dear video recorder charger
, if you could please make yourself appear it would be greatly appreciated. I havent been able to charge the camcorder since I unwrapped it on Christmas morning because we have no clue where you are. And the battery is going to die any day now. I dont want to miss the chance of recording matthews first time crawling. So please, i beg of you, come out of hiding.
dear pale person that stares at me through the mirror
, not only do you live in south florida, but you also have a membership to the tanning salon. it is absolutely unacceptable that you are so pale. you are in some desperate need of some
fake
sun. you know its bad when your 6 year old niece ask "leah, whats wrong with your legs?" me "what do you mean? (
as i look at them
)" jenna "why are they so white?" for which my sister bursts out laughing.......thanks. just. thanks. for. that.
dear hubby
, because you and matthew always get two, i think its about time we
finish
start another house project. I know we could really use the space by enclosing the carport (
which has always been on our list
), but I think remodeling the bathroom is more of a priority. Especially since matthew is physically growing out of his newborn bathtub, and it just grosses me out that our actual bathtub has cracks in it. So much so that I refuse to put matthew in it for fear there is bacteria or mold or something that might be harmful.
dear matthew
, your aunt denise has forewarned me to not make alot of plans this weekend, claiming that your next tooth is going to pop out sometime in the next couple of days. You only have 2 teeth right now, the bottom middle two, but a third on the bottom left looks and feels like its coming through now. please try to be a happy boy through the pain, i know it hurts, and mommy will try and do her best to ease the pain, but I cant make it go away completely. trust me, I think all mothers would if they could.
and as always, i will never leave you without a picture or two (sorry for those who have already seen these on
instagram
.
p.s. dont forget to go link up with Ashley for
Fridays Letters
Follow my blog with Bloglovin