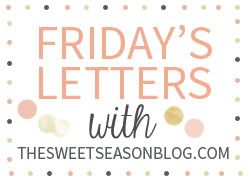 dear hubby
, i know this week was a
hard week
for us, but i think after sitting down and having a civilized conversation we made some real progress. there are things that still need to change, for both of us, but im just glad that we were able to see each others points. just know, I may not like you some days, but I always love you.
dear matthew
, thank you so much for sleeping through the night last night! mommy needed some sleep, badly, and so did you. today you woke up in such a better mood. Smiling at me as I walked through your door, i knew today was going to be much better than this past week
dear hair
, what is up with you lately? i just cant seem to figure you out. youre kinda too long, but i dont want to cut you. bangs overgrown, do i really want bangs? you've been incredibly greasy lately and I dont know why. so greasy that last night i didnt even put conditioner in (
something Ive never done
) and yet this morning you still feel yucky. what the h-e-doublehockeysticks is going on?!?!?! get it together. any suggestions on making my hair not so greasy, would be greatly appreciated.
dear reese's peanut butter eggs
, you will be the death of my. ive already eaten 2 and its not even 2pm yet. i bought you to pt in hubs easter basket, but it doesnt look like youll be making it that long in our house.
dear pottery barn kids
, thanks for making such cute easter baskets! i got matthew the peter rabbit one and it came this week. i die of the cuteness!
dear spring
, im so glad youre finally here! its beautiful outside (although a lil overcast today) with the windows open and the wind airing out the house. if only someone else could do my sping cleanign for me ;)
dear previous employer
, thank you so much for the surprise performance bonus check that came in the mail. i was not expecting you at all, but you came at just the right time, as i needed to order a new convertible carseat for matthew and was dreading the $250 price tag. This makes it so much easier.
dear old navy
, why must you have so many cute dresses? i want all of them! i only bought 2, but i might go back for more colors. hehe
dear hubby
, i didnt expect you to meet me at matthews pedetrcian appointment on wednesday, but Im actually kind of glad you did. it was great to have the doctor tell you that nothing is wrong with matthew and that hes just teething and acting like a normal baby. i already knew this, and have told you multiple times, but i guess it took a professional to tell you for you to actually believe it.
dear matthew
, im so proud of how good youve become while eating at restaurants. wednesday night it was well past your bedtime by time we got to the restaurant and I was for sure that we would have to leave early due to you being up for so long with no nap. but you surprised all of us by being extremely well behaved, eating dinner, and just playing with your toy while the rest of us finished. you only started getting cranky when the bill came. thank you for being such a good boy!
And before I forget, the winner of the CROODS giveawy is:
a Rafflecopter giveaway
And i know I usually leave you with a photo, but i thought this little video was better. We gave Matthew a lemon at dinner wednesday night and he loved it, although his face may tell you different ;)
Hope ya'll have a great weekend! And dont forget to link up with
Ashley
for Fridays Letters!