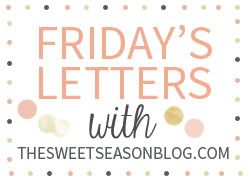 First and foremost lets not forget the announcement of the
Premama giveaway
:
a Rafflecopter giveaway
Send me your address ASAP so the company can send out your 30-day supply of Premama.
Now onto are regularly scheduled post....TGIF & TGIWN!! (thank god its WINE NIGHT! hehe)
dear hubby, i know how excited we both are about going to the Tortuga Music Festival, but we really need to book our hotel like yesterday, prices are basically skyrocketing and if we dont book soon we wont be able too!
dear matthew, remember when I was worried about you not siting by yourself at 7 months? Well, it may have taken you that long to sit by yourself but this past month you have developed so many more skills. You can not only sit by yourself, you can go from laying down to sitting, crawling, kneeling while holding on to your crib when you wake up, to pulling yourself up to standing with your toys. It amazes me how fast you learned all of these, and I swear any day now you are just going to take off running!!
dear facebook friend, (name not included for privacy) I am so happy that you are getting rid of your daughters bunk beds, when I saw the picture of them I just knew they would be perfect for my niece. I was so excited to tell my sister about it this morning (just to make sure she wanted them) and cant wait to see your face light up when we build it in your room. And double bonus? Totally getting it for FREE!! you know I cant pass up an offer like that! picture below so you all can be as excited as I am
dear rollerblades, it was a sad day Monday when I realized we would finally be parting ways. You have been in our family for a very long time. I remember when I stole acquired them from my sister back when she was in highschool. We've had many good memories, some bad, like when I busted my ass in our old neighborhood right in front of a car, which said car had to slam on their brakes to avoid running me over. I still have yet to actually put you in the garbage. even though I know you are no longer usable, instead you stare at me from the corner of the office, waiting for the day I gather you up and drop you in the trash. But hey, thanks to you I am going to work even harder to loose the next 12.6lbs to go buy one of your long lost cousins (aka a new pair of rollerblades) as my reward. So thank you for helping inspire my love for rollerblading!
dear budget project, Ive been doing good about not using the credit card for things, but obviously Im not paying enough attention to whats in our accounts, cuz lets just say the $230 overdraft on Tuesday wasnt exactly in my plan. Thank god the accounts are connected to other accounts for overdraft protection, but that totally could have been avoidable had I been really paying attention. This week Im going to start really budgeting, like actual bills, excels files, receipts, ect. If you follow me on pinterest you can take a look at my budgeting board to see where im getting my ideas from. Wish me luck!
dear hubby, i mentioned the above bunk beds to hopefully give you a suttle hint that I will need your help, and truck, this week to go and get them, pretty please :) Your the best husband in the world! thanks!
dear matthew, what is up with this new high-pitch scream of yours? Aunt D and I noticed it a couple of days ago, were not sure where you learned it or why your doing it, but it would be much appreciated if you could go back to the normal crying whining that you did. ok?
And because I never leave you without a picture, and because its March 1st, I figured I share with you the past 2 months of my Project365. Thanks to instagram Ive been pretty good at keeping up with it. Here is Jan & Feb's pics. (if you follow me in instagram most likely you've seen every single one of these already)
Hope you all have a good weekend, starting my off right with a few glasses of wine with some great ladies tonight.
dont forget to link up your Friday's Letters with Ashley over at The Sweet Season